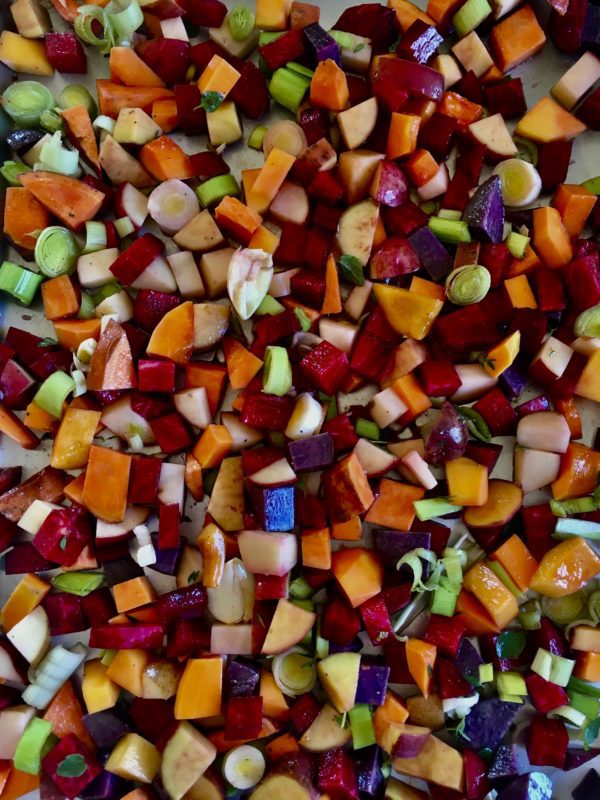 4 cups of root vegetables/squash (from the list below, choose your favorite combination or whatever you have on hand)
potatoes

cut into 3/4 inch cubes

celeriac (celery root)

peel and cut into 3/4 inch cubes

beets

peel and cut into 1/2 inch cubes

sweet potatoes or yams

cut into 3/4 inch cubes

carrots

cut into 1/2 inch rounds

parsnips

cut into 1/2 inch rounds

Rutabaga

peel and cut into 3/4 inch cubes

winter squash

peel (unless it's delicata) and cut into 3/4 inch cubes
1

leek

cut into thin rounds, optional

2-3

medium cloves

garlic

peel and smash, optional

1/2

medium red onion

roughly chopped, optional

2

Tbsp

thyme or rosemary

optional

2-3

Tbsp

oil

olive or canola

Salt and pepper to taste
4 cups of root vegetables/squash (from the list below, choose your favorite combination or whatever you have on hand)

potatoes

cut into 3/4 inch cubes

celeriac (celery root)

peel and cut into 3/4 inch cubes

beets

peel and cut into 1/2 inch cubes

sweet potatoes or yams

cut into 3/4 inch cubes

carrots

cut into 1/2 inch rounds

parsnips

cut into 1/2 inch rounds

Rutabaga

peel and cut into 3/4 inch cubes

winter squash

peel (unless it's delicata) and cut into 3/4 inch cubes

1

leek

cut into thin rounds, optional

2-3

medium cloves

garlic

peel and smash, optional

1/2

medium red onion

roughly chopped, optional

2

Tbsp

thyme or rosemary

optional

2-3

Tbsp

oil

olive or canola

Salt and pepper to taste
Preheat oven to 425 degrees. Wash and cut the vegetables you have chosen to use.

On a large baking sheet toss vegetables with oil, seasonings and salt and pepper. Roast, stirring every 15 minutes, until all vegetables are tender (30 minutes to an hour).
Great topped with a fried egg or a dollop of plain yogurt or sour cream.