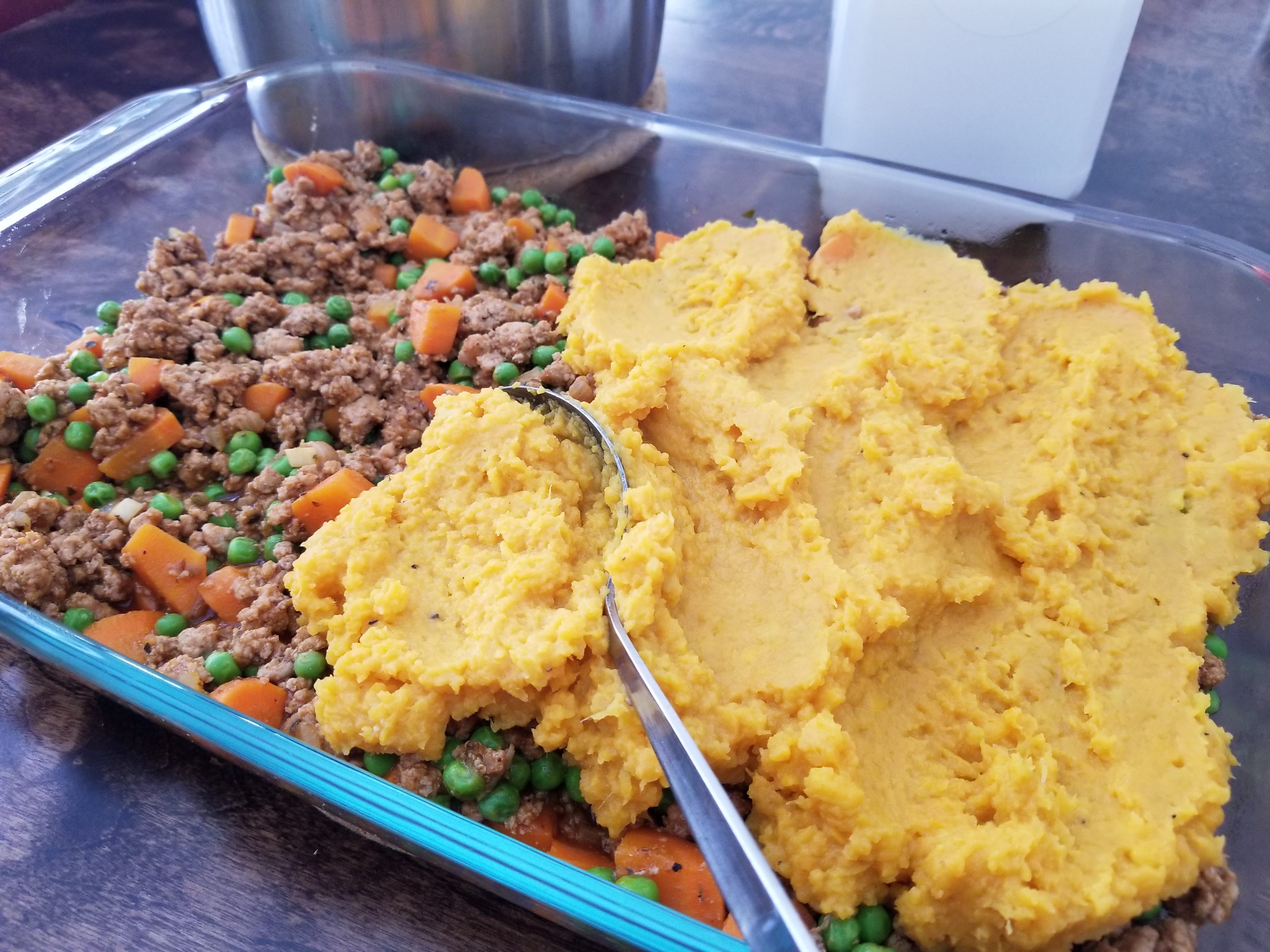 Sweet Potato Cottage Pie
Ingredients
2-3

large sweet potatoes

about 2 lb. total

1/2

cup

milk

1%

1

Tbs. softened

Salt and black pepper

For the filling

2

Tbs. olive oil

1-2

large carrots

chopped into 1/4-inch dice

1

medium onion

finely chopped (about 1-1/2 cups)

1-2

cloves

garlic

minced

2

tsp. ground cumin

2

tsp. chopped fresh oregano or 1/2 tsp. dried oregano

1

tsp. chile powder

1/4

tsp. ground cinnamon

1-1/2

lb. ground turkey

1 14-

oz. can crushed tomatoes

2/3

cup

frozen peas
Instructions
Prepare the toppping

Clean the sweet potatoes and stab with a fork or knife. Position on a paper towel in the microwave and microwave on high for 6-8 minutes, turning over once. Microwaves vary in strength. Continue baking the sweet potatoes for a few more minutes if necessary.

When cool enough to handle, scoop the flesh into a medium mixing bowl. Add the milk, cheese, butter, 1/4 tsp. salt, and 1/2 tsp. pepper and beat with a whisk or an electric hand mixer on low speed until smooth and creamy, about 1 minute. Set aside.

Prepare the filing

Heat the oil in a 12-inch sauté pan over medium-high heat. Add the celery, carrot, onion, and ¼ tsp. salt. Reduce the heat to medium and cook, stirring frequently, until the vegetables are soft, fragrant, and starting to turn golden, 10 to 15 minutes. Add the garlic, cumin, oregano, chile powder, and cinnamon and cook for 30 seconds. Add the turkey, season with 2 tsp. salt, and cook until no longer pink, about 5 minutes. Add the peas and cook for another minute; season to taste with salt.

Assemble and bake the pie

Transfer the beef mixture to a 9x9-inch baking dish. Spread the sweet potatoes over the top in an even layer. Bake until bubbling around edges, about 30 minutes.
Back to Recipes