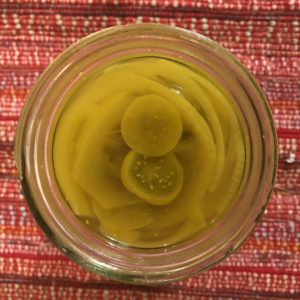 Pickled Green Tomatoes
These pickles can be added to sandwiches, hot dogs, tacos, burgers or salads. They can also be eaten straight out of the jar!
Ingredients
1

lb

green tomatoes, sliced
Basic Pickling Mix
1

Tsp

yellow mustard seeds

1

Tsp

celery seeds

1

Tsp

coriander seeds

1/2

Tsp

peppercorns
Garlic Dill Pickling Mix
2

Tsp

dill seed

1

Tsp

peppercorns

4

garlic cloves, peeled
The Brine
1

cup

white vinegar

1

cup

water

1

Tbsp

kosher salt

2

Tsp

sugar
Instructions
In a saucepan bring the brine ingredients to a boil. When the salt has dissolved, remove the brine from the heat.

Fill a clean quart jar with the pickling mix of your choice and then pack the jar tightly with green tomatoes.

Pour the hot brine over the tomatoes, covering them completely.

Store the jar in the fridge. The tomatoes will be pickled and ready to eat in two weeks.
Notes
The pickles will keep for 2-3 months in the fridge.
Back to Recipes