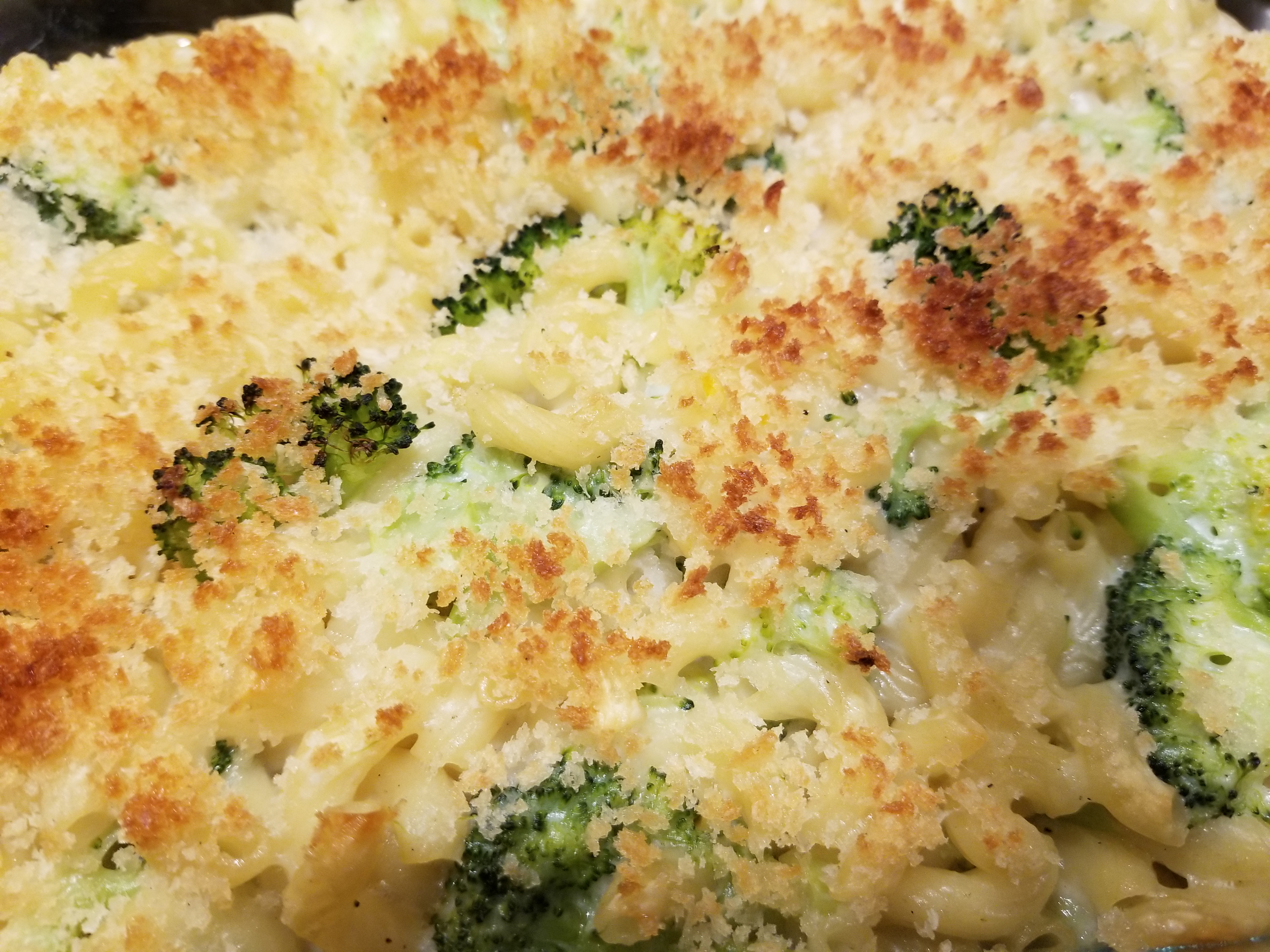 Broccoli Mac and Cheese
Ingredients
8

oz

Pasta

(almost any pasta works, see note)

3-4

cups

of chopped broccoli

that is 1 medium head

2

Tbsp

butter

2

Tbsp

flour

2

cups

milk

any type works

1

tsp

mustard

optional

1

cup

grated cheese

for example cheddar

Salt and pepper

to taste

1/4

cup

bread crumbs

1

Tbsp

oil

for example olive oil
Instructions
First get your broccoli ready: wash, cut the stem ends, and cut everything into small pieces. You can leave the florets a little bigger than the stem pieces. (It also helps if you peel the lower part of the stem before chopping.)

Bring a large pot of water to a boil. Add salt and cook the pasta according to package directions.

3-4 minutes before pasta is done cooking, add the broccoli to the pasta and continue to simmer.

Drain pasta and broccoli in a colander. Return the pot to the heat.

Over medium heat, melt butter and whisk in the the flour. Keep stirring for 3-4 minutes until the mix looks puffy. Don't let it get dark.

Add the milk slowly, stirring constantly. Keep stirring for a few minutes until the sauce has thickened. Stir in cheeses, and cook over low heat until cheese is melted.

Add cooked pasta and broccoli to the sauce and adjust seasoning. If you don't want to bake your mac and cheese, you can eat it as is.

If you want to bake your mac and cheese, pour the mix into a greased baking dish.

In a small bowl, mix breadcrumbs and oil with your fingers and sprinkle over the pasta mix. Bake at 375 degree for about 20 - 30 minutes.
Notes
All pasta shapes with nocks and crannies to catch the sauce (elbows, farfalle, shells or penne) work well for mac and cheese. Whole grain pasta give you an extra fiber boost.
Baked mac and cheese is a great meal to prep ahead of time. Increase the baking time by about 10 -15 minutes if it comes out of the fridge.
Back to Recipes