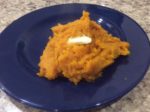 Print
Mashed Squash
Depending on the size of the squash, you might end up with 2, 4, or more cups of baked squash. You can adjust the quantities of the ingredients below to suit the amount of squash you are using.
Bake the squash: Cut raw squash in half and scoop out the seeds. If it is large, cut the halves again in half. Place the pieces of squash face down on a greased cookie sheet. Bake at 400° until easily pierced with a fork, about 30-40 minutes. Let cool, then scoop out the pulp.

Place squash pulp in a bowl or saucepan and mash with a fork or potato masher.

Reheat squash in the microwave or on the stove over low heat.

Warm the milk.

Stir the warmed milk, butter, salt, and pepper into the reheated squash.